Click here for computer version.                Updated 02/02/17 0530
Feb 20th is American Presidents Day and we are planning a camping trip for anyone who wants to just relax in the mountains filled with snow and not worry about planning, shopping, cooking, setting up and have time to enjoy yourself at the lake. We will have several heaters just in case you get cold. We will be camping at Asamanomori located 3 hours from Zama in Gunma Prefecture. We will be 20 min from Asama2000 Ski Resort where you can go skiing and snowboarding. On Sunday, February 19th, elementary and junior high school students up to age 19, their ski lift tickets are free. 20 year olds are half off.  The 'Chibbiko Hiroba' area for young children is located near the base of the resort - entry is 500 yen. There is also an indoor 'Kids Room'. Entry is 500 yen. Entry to one includes entry to the other! If skiing or snowboarding is not your thing, we will be more than happy to assist you in finding something fun to do. 
Please fill out the form at the bottom of this page if you like to participate. Leave a message if you have any questions. 
Click here to see our past camping trips and what others said about our camping trips.   
---
"Asamanomori" Asama Forest Auto Camp Site
        This campsite located in the Joshinetsu Kogen National Park on the southern side of Mt. Asama at an attitude of 1100m. There is plenty of wildlife to include birds, squirrels, foxes and raccoon dogs. 
 There are couple hot springs within 3 min drive of the campsite, one of them over 800 years old. There are several animal parks, kids parks and much more within a 30 min drive.
       There is e
lectricity so bring your electric heated blanket/carpet. 
There is e
lectricity so bring your electric heated blanket/carpet. If you desire a cabin, let us know, will help you get one. You are responsible for the cabin fees.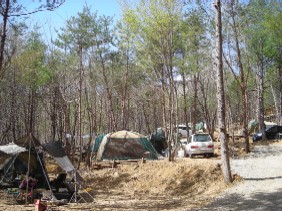 ---
Making Hobo dinners is always fun to do. Your choice of fish, chicken or cheese-in-hamburger. With plenty of veggies and spices, you make a very tasty meal. 
You make your meal and wrap it in alumimum foil and cook directly on the campfire. 
---
Making breakfast can be fun. One of the breakfast is making omelettes in a ziplock baggies. The kids and even adults love to make this style breakfast. 
We love helping the kids make crafts from nature, play games and just enjoy nature. 
---
One of the meals is just a good ol' fashion BBQ.
---
  Making S'mores is always a favorite with everyone.
Do you want to do something special on the campout? Such as a surprise birthday party or another event. Let us know and we will do for you. 
---
                                       Schedule   TBD   
Saturday Feb 18. 
Depart Zama 0500, arrive at Ski Resort around 0800

 If you are not riding with us, you are free to leave whenever. 
Enjoy full day of skiing or on your own.
Lunch (TBD) (Plan +L)
Dinner (TBD) Japanese Main
Campfire at night, make smores/roast marshmallows. 
Sunday. Feb 19. 
Breakfast:  Pancakes with sausages/bacon, assorted juices and coffee.
Lunch: (TBD)(Plan +L)
Dinner: (TBD) Chinese Main
Campfire at night, make smores/roast marshmallows. 
Monday Feb 20 
Breakfast: Enjoy making omelettes in a ziplock baggie. You'll have many choices to add to your omellet such as meats, veggies and cheese.  
Late Lunch:(TBD) Good ol' BBQ and Rika's special
Cost: Includes campsite entrance fee for each person, food and drinks, and a little towards us for planning, making and guiding. Does not include lift tickets. Camping spot is an extra charge of $50 per spot per night, which can have a tent and canopy. 
We will assist you in making your plans for skiing, snowboarding, sledding, siteseeing, etc.  
            Children 11-18 yr olds  $120
            Children 4-10 yr olds  $90 
Plan +L If you plan not to go siteseeing and want to eat lunch with us, then you want this plan. For each lunch, add $10 for adults and $8 for 11-18 and $5 for 4-10 yr olds. 
Transportation: We have spots for up to 8 people to ride in our van.  Cost $50 round trip.
**For large family or families with 5 yr old and under, please contact us for cost adjustment.  Ervin@enjoyingjapan.com
Tent, if you need one, let us know. We have Three 5-man tents and couple 2-man tents

Sleeping bag or blankets and sleeping pad. Night time will be cold so make sure you bring plenty to keep warm. We have 5 sleeping bags. We ask that you pay $3 for cleaning fees. 

Change of clothes. Bring warm clothes and jacket.

Electric blanket or heater that you can use in a tent. 

Snow wear.

Snow Shoes or Boots

Extra pair of shoes

Toiletries

Flashlight

Chair

Extra drinks, snacks. (Drinks and snacks are included, but if you need more, please bring extra)

We do not supply adult beverages, so please BYOB.  (We ask that you help bring home your cans/glass bottles)

Sunblock

A desire to have fun and a Big Smile
** It is possible to have snow during this time. So be prepared. Snow tires are required and recommend having chains. Let us know if you need assistance preparing.