Information:
Inkrat are a modern street shop in Koenji that has taken as is its mission the task of introducing American traditional to a local audience. They are exemplary of the Japanese fascination with overseas culture, and the importation of tattoo culture from America to Japan, that helped bring tattoo culture into the mainstream.
Inkrat is made up of two artists, Rei and Hata. Rei the owner has been tattooing for 14 years, making him one of the pioneers of modern tattooing in Japan – starting in the hot bed of tattoo talent, Osaka, and moving to Tokyo.
Although he insists he does all styles "except for biomecha" much of his work focuses on American traditional, and says of the appeal of traditional: "It has a background, just like Japan's traditional tattooing, I found that really appealing, and got influenced by the way of thought, it's really positive, and has strong conceptualization, so gradually started to do more."
Most of the tattoos consists of solid, minimal color usage, good line work, appealing designs, and are decidedly clean, and simple.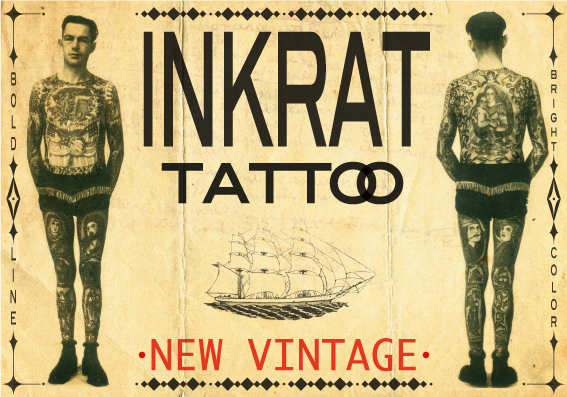 Get Directions in Google Maps:
Get Directions in Apple Maps:
Disclamier:
****We strive to make this as accurate as possible. Since places do go out of business or move and maybe a human error in typing the GPS coordinates, there may occasionally be an error. Please contact us and let us know of the error so we can correct it. Information about the place was taken from their website and was accurate at the time of posting. Best to check their website for updated information.